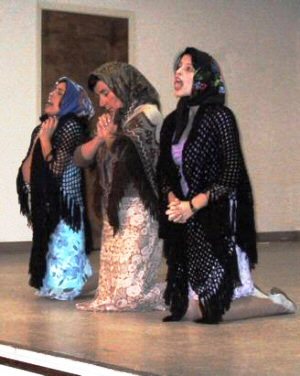 On stage in Turlock, 8 Apr 2006: Maria do Carmo Amaral, Judite Parreira and Filomena Ferreira.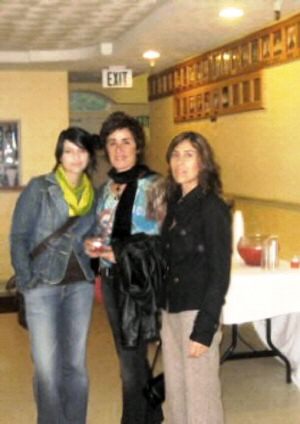 Filomena Ferreira, Judite Parreira and Maria do Carmo Amaral relax and enjoy refreshments after the 7 April 2006 Gilroy performance.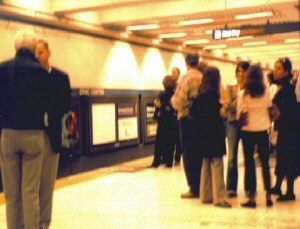 Álamo Oliveira and Diniz Borges, Prof. Carla Silva Cook (University of the Azores) and actors Judite Parreira, Filomena Ferreira and Maria do Carmo Amaral wait for the high-speed BART train back to Berkeley after attending a Broadway-bound musical in San Francisco the evening following the world première of Bocas de mulheres.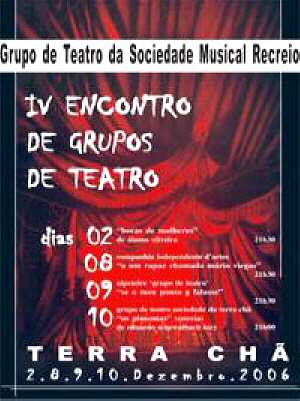 A performance of Bocas de mulheres opened the fourth annual theater festival in Terra Chã, Terceira, on the evening of 2 Dec 2006.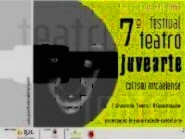 Bocas de mulheres was presented at the 7th Juvearte theater festival at the Coliseu Micaelense in Ponta Delgada, São Miguel, in fall 2006.
FOREWORD: Álamo Oliveira wrote his one-act play Bocas de mulheres [The Mouths of Women] at the behest of Deolinda Adão, coordinator of the University of California-Berkeley's Portuguese Studies Program, so it could receive its world première – with actors Maria do Carmo Amaral, Judite Parreira and Filomena Ferreira from the Azores' Alpendre Theater – at Cal's Durham Theater on 23 April 2005 under the direction of the author, as part of the 2nd International Conference The Choice and Voice of Women in Portugal and in the Diaspora.
During December 2005 and January 2006 the cast next performed the work on their home stage in Angra do Heroísmo, Terceira. Bocas de mulheres then enjoyed encore presentations by the same actors on tour in California in early April 2006, in conjunction with events in Berkeley, Gilroy and Turlock honoring the publication of Álamo's newly-translated novel I No Longer Like Chocolates, as well as at a non-book related event in Tulare.
The cast reprised the play in the Azores in fall 2006: in Álamo's hometown of Raminho, Terceira (two performances); at the 7th Juvearte Theater Festival at the Coliseu Micaelense in Ponta Delgada, São Miguel; and four more times on Terceira – as the opening performance of the 4th annual Encontro de Teatro of the Grupo de Teatro da Sociedade Musical Recreio in Terra Chã, in Fontinhas, at the Sociedade Filarmónia Progresso Biscoitense in Biscoitos, and at the Centro Cultural do Ramo Grande in Praia da Vitória. An encore performance in Raminho is anticipated in 2007.
After seeing one of the Angra performances, Terceira blogger Paulo J. Ribeiro of Praia da Vitória was inspired to post his impressions on the Internet, while Diniz Borges published his observations on the play's multiple California performances in the Canadian magazine Sol Português and the Angrense newspaper Diário Insular. Katharine Baker, who also attended the play's Berkeley première, has translated both authors' commentaries, excerpted below; she is also currently translating Bocas de mulheres into English.
Homage from an Islander, II
by Paulo J. Ribeiro
Posted on the blog Ilhéu do Norte
24 Jan 2006, 1:00 PM
This past January 21, a Saturday for reflection, I went to the theater. I didn't go to see a première, nor anything that arrived here recently. I went to see a play at the Alpendre Theater, the renovated Alpendre. A play already seen by many people, not only here but principally in the United States, at the University of California-Berkeley to be more precise. For this reason, owing to the delay, I present my belated apologies to however many contributed to this magnificent text's being brought to the stage, and I lament not having been able to see it sooner.
The work I went to see is an example of how it is possible – with traditions, regionalisms and evocations of the past, however sad they may be – how it is possible, as I was saying, to make a work that is innovative, up-to-the-minute and that evinces a strong cultural grandeur on the part of our influential artists and an opening to the future. Álamo Oliveira shows us that the Azorean woman of this new millennium is a different woman. A woman with a different life from what her mother and grandmother had but, many times, also substantially different from her sister. Her sister who still lives her life with a black shawl over her head, waiting for a husband who is far away, worried about what to feed her children for dinner and satisfying her husband in bed, the sister who still dreams of America and a refrigerator-ful of food, abundance and plenty.
Today's woman has many faces. As many as the innumerable characters interpreted by the three actresses onstage... Congratulations to Álamo [and the cast]... I hope to see them together again.
I cannot close without making reference to the Alpendre's new look. When I went in, I felt I had entered a true theater. That I had entered a theater with a soul, with a past and yet with an image of the future. In the absence of gold, velvet and crystal furnishings, the Alpendre is open to everyone and doesn't require a necktie. The space is intimate and welcoming, so people feel like staying.
Once more, congratulations!
The Theater and the California Communities
by Diniz Borges
In "Pena & Lápis" column of Sol Português, 21 Apr 2006
and Diário Insular, 23 Apr 2006
In April 2005 the Portuguese Studies Program at the prestigious University of California-Berkeley sponsored the conference The Voice and Choice of the Portuguese Woman in Portugal and in the Diaspora. It was in Berkeley that I first saw the play Bocas de Mulheres by my close friend, playwright Álamo Oliveira, which was graced by the presence of three magnificent actors from his island of Terceira – Judite Parreira, Maria do Carmo Amaral and Filomena Ferreira.
That very day I told Álamo that this was a play that deserved to be seen in our Portuguese communities. That's because these communities don't have theater, or, more accurately, they don't have Portuguese theater – because if nothing else, even in the remotest rural areas of California small theater companies exist that put on plays of excellent quality. But not in Portuguese. Our communities rarely get the chance to see theater, even more rarely theater as it is performed in the Azores, as well as the evolution that the latter has undergone.
Thus this play went to the Azores, and thanks to expenses covered by the Azores' Regional Directorate of Communities and support from several organizations here in California – namely in Gilroy, Turlock and Tulare – we had Portuguese theater in northern and central California. A shortage of time, alas, prevented the play from traveling to the southern part of our state. The play made its mark in the aforementioned communities, and in these cities the Portuguese community mustered an excellent turnout. It was wonderful to see that where good will exists, miracles great and small can still be performed in our communities. The presentation of this play exemplified that.
Without great fanfare, but with enthusiasm from several individuals and institutions (notably Deolinda Adão in Berkeley, Al Pinheiro in Gilroy and Elmano Costa in Turlock), the communities of Gilroy (and San Jose, because those who wanted to see the play went there, since Gilroy is just a stone's throw away), Turlock and Tulare were able to experience an authentic cultural soirée. In all these communities there was extraordinary human warmth. Each community grasped the value of the play, felt the force of its text and appreciated the talent of the actors. And it was really the only theater we've had in our communities, at two performances preceded by a modest presentation of the English translation of the novel Já não gosto de chocolate – I No Longer Like Chocolates – by Álamo Oliveira.
There are two points I wish to reflect upon: first, the value of the play and its interpreters. Álamo Oliveira has proven himself once more to be profoundly aware of our three realities: those of Azorean emigrants, Azorean-Americans, and Americans of Azorean ancestry. The point is that this reality was still not fully understood in the heart of some of our organizations, particularly in the so-called cultural ones. The play carefully fuses multiple generations, whether in conflict or acceptance. Without stereotyping, we are in the presence of a portrait of that metamorphosis which takes place in our Portuguese communities and the changes that exist in the Azores. The play visits the past (our collective memory on both sides of the Atlantic), incorporates the present – and is a unison cry in the struggles of women, both here and there, for emancipation. This is a play about justice!
Secondly, these cultural moments are important for the survival of our communities' existence... Culture must have its own space... It's good that Portuguese communities in northern and central California had the opportunity to see and appreciate a piece of theater in the Portuguese language about our multiple realities, which I repeat: Azorean emigrants, Azorean-Americans, and Americans of Azorean ancestry. Incidentally, I think that just like so many other of Álamo Oliveira's creations, this play ought to be seen by the political and official entities on both sides of the Atlantic.
The important thing is for them to be able to understand so very much about our communities in the diaspora and the metamorphosis that occurs in them. This play needs to be seen by all our community leaders and pseudo-leaders. It's urgent that cultural formations be made in our associative movement.
But that's for the next play!