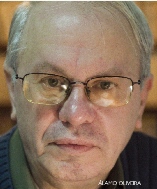 Author ÁLAMO OLIVEIRA – a 2010 recipient of both Portugal's Comendador da Ordem do Mérito and the Azores Legislative Assembly's Insígnia Autonómica de Reconhecimento – is one of the Azores' most acclaimed and prolific living writers and leading cultural figures. He was born in the village of Raminho on the island of Terceira, studied Philosophy at the Angra do Heroísmo Seminary and served in the Portuguese army in Guinea-Bissau. Although the rest of his immediate family emigrated to California, Álamo remained in the Azores, where he pursued a distinguished government career in addition to being a novelist, poet, playwright, lyricist, essayist, public speaker, painter and founder-director of Angra do Heroísmo's leading theater company, the Alpendre Theater. In October 2009 Álamo chaired the Directorate's international conference for writers, translators and promoters of Azorean Literature, Escritas dispersas: convergência de afectos, at the University of the Azores in Ponta Delgada, São Miguel.
In Spring 2002 Álamo became the first Portuguese writer-in-residence at the University of California-Berkeley. Other honors include the Prémio de Teatro Almeida Garrett for his play A solidão da casa do regalo and the Maré Viva prize for the novel Até hoje (memórias de cão). He is one of three major Azorean writers profiled in the 2005 Portuguese documentary Aventuras do Espirito, which includes a biographical sketch and commentaries by the author, as well as Álamo reading from his short-story collection Com Perfume e com veneno. He is listed in the Portuguese Wikipédia.
Various writings of Álamo's have been translated into English, French, Spanish, Croatian, Latvian and Japanese. Copies of his novel Já não gosto de chocolates, from which I No Longer Like Chocolates is translated, are held in over a dozen major academic and public libraries throughout the United States, and it has been taught in North American university courses in Modern Portuguese Fiction and Portuguese Island Culture. Random House Kodansha published Kiwamu Hamaoka's Japanese translation of I No Longer Like Chocolates in 2008 (see cover art, below right).
OTHER BOOKS PUBLISHED BY ÁLAMO OLIVEIRA:
ANTHOLOGIES
2003 O meu coração é assim (edited by Diniz Borges, with preface)
1984 Triste Vida Leva a Garça (1967-81)
FICTION
2014 Marta de Jesus (a verdadeira)
2013 Murmúrios com Vinho de Missa
1999 Já não gosto de chocolates
1997 Com Perfume e com Veneno
1992 Pátio d'Alfândega meia-noite
1991 Contos com desconto
1986 Até hoje (memórias de cão)
1982 Burra preta com uma lágrima
POETRY
2010 Andanças de Pedra e Cal
1998 António, porta-te como uma flor
1992 Impressões de boca
1987 Erva-azeda
1986 Textos inocentes
1983 Nem Mais Amor que Fogo, with Emanuel Jorge Botelho
1982 Itinerário das gaivotas
1980 Eu fui ao Pico piquei-me
1979 Cantar o corpo
1976 Os quinze misteriosos mistérios
1974 Fábulas
1973 Poemas de(s)amor
1971 Pão verde
1968 A vinha mão aberta
PLAYS
2016 Já não gosto de chocolates (adapted from his own novel)
2005 Bocas de mulheres
2004 A solidão da casa do regalo
2002 Judite--nome de guerra, Almada Negreiro (adapted)
1999 Morte que mataste lira, with Carlos Alberto Moniz
1995 Os sonhos do infante, 2nd edition
1994 Manuel, seis vezes pensei em ti, 2nd edition
1984 Missa terra lavrada
1984 Sabeis quem é este João?
1981 Uma hortênsia para Brianda
1974 Morte ou vida do poeta
1974 Um Quixote, 2nd edition
ESSAYS
1996 Olá, pobreza!
1982 Quando o mar galgou a terra (abordagem)
1978 Almeida Firmino / Poeta dos Açores
NONFICTION
2014 Batista S. Vieira: Construtor de Sonhos e Realidades
1988 Açores (photographs by Maurício Abreu)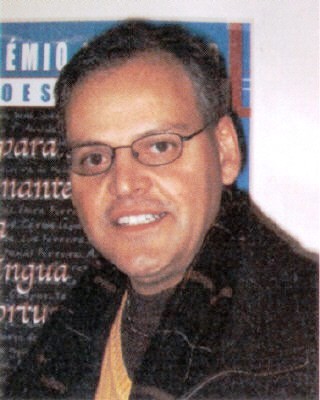 Translator DINIZ BORGES – recipient of 2017's Outstanding Teacher Award from the California Language Teachers' Association, and Tulare County's 2007-8 High School Teacher of the Year – teaches Portuguese at Tulare Union High School and at College of the Sequoias, where he directs its Institute for Azorean-American Studies. The Praia da Vitória, Terceira, native holds a B.A. from Chapman University and M.A. from California State University-Dominguez Hills. He writes regularly on American topics for Portuguese-language newspapers in the US, Canada and Portugal, edits the fine-arts section of California's Portuguese Tribune, and since 1990 has moderated a cultural television program on KNXT-49 in Fresno. From 1990-2002 he organized and hosted "Filamentos de Herança Atlântica" [Threads of Atlantic Heritage] symposia in Tulare, and from 2004-8 was President of the Council of Portuguese Communities for the US, Canada and Bermuda. He has co-chaired Luso-American Education Foundation conferences, is Honorary Portuguese Consul in Tulare, Vice President of the Tulare-Angra do Heroísmo Sister City Foundation, and President of APPEU&C [North American Portuguese Teachers Association]. He and Katharine Baker will soon be translating Álamo Oliveira's 2014 novel Marta de Jesus (a verdadeira).
OTHER BOOKS BY DINIZ BORGES:
2012 A década perdida: crónicas de uma América cinzenta
2009 The Portuguese Presence in California, by Dr. Eduardo Mayone Dias (translated with Katharine Baker and Dr. Bobby J. Chamberlain)
2009 My Californian Friends: Poetry, by Vasco Pereira da Costa (translated with Katharine Baker)
2005 O outro lado da saudade (collected newspaper columns, 1997-2005)
2004 Nem sempre a saudade chora - antologia de poesia açoriana sobre emigração
2003 O meu coração é assim (anthology of works by Álamo Oliveira, with preface)
2003 On a Leaf of Blue (bilingual anthology of contemporary Azorean poetry)
2003 América: O outro rosto
2002 Alfred Lewis: Escritor de emoções
2000 Uma outra América: textos do real e do utópico
1996 América: o outro lado do sonho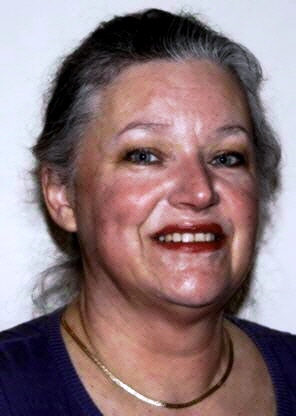 Translator KATHARINE BAKER, a second-generation native Californian whose ancestors hailed from the islands of Flores and São Jorge in the Azores, earned degrees from the University of California-Berkeley and the University of Maryland, and later studied Portuguese at the University of Pittsburgh. Among current translating projects she has completed drafts of Álamo Oliveira's play Bocas de mulheres, and poetry volumes by Álamo, andanças de pedra e cal, and by Vasco Pereira da Costa, O fogo oculto; with Diniz Borges, she recently began translating Álamo's novel Marta de Jesus (a verdadeira). She contributes to RTP's Comunidades [overseas communities] website and Maré Cheia (fine-arts section of Tribuna Portuguesa), and speaks at conferences on Azorean literature. She created and regularly updates this website and www.mycalifornianfriends.com
OTHER BOOKS & CHAPTERS BY KATHARINE BAKER:
2018 Sorriso por dentro da noite, by Adelaide Freitas (novel translated with Dr. Bobby J. Chamberlain, Dr. Reinaldo A. Silva and Emanuel Melo) [in editing]
2018 The Weight of the Hyphen, essays by Dr. Onésimo Teotónio Almeida (translated with Drs. Chamberlain and Almeida) [in editing]
2016 Untamed Dreams – Faces of America, 2 original essays (1 with Dr. Chamberlain), 2 edited ones
2009 The Portuguese Presence in California, by Dr. Eduardo Mayone Dias (translated with Dr. Chamberlain and Diniz Borges)
2009 My Californian Friends: Poetry, by Vasco Pereira da Costa (translated with Diniz Borges)
2008 Álamo Oliveira's essay in Capelinhos: A Volcano of Synergies, commemorating the 50th anniversary of the Faial eruptions (translated with Dr. Chamberlain)
2007 ILHA, by Gabriela Silva (poems translated with Sandy Ventura; photos by Kristie McLean)
Click here to order I No Longer Like Chocolates now.
Cover art for the Japanese edition, Chokorēto wa mō iranai.