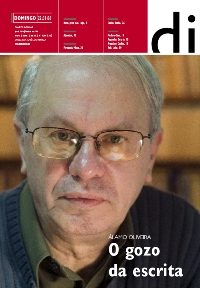 José Henrique Álamo Oliveira was born in the town of Raminho, Terceira, Azores. With 33 books of poetry, novels, short stories, plays and essays to his credit, Álamo Oliveira is one of the most distinguished figures in Azorean literature. The writing techniques of some of his books have served as the basis for academic study at universities in the United States and Brazil. After being translated into English, his novel I No Longer Like Chocolates will be released in April in the United States, and there's also going to be a version in Japanese.
Ler a entrevista original em português
Diário Insular (DI) -- Is it true that the English version of I No Longer Like Chocolates is going to be available on the market in the United States shortly?
Álamo Oliveira (AO) -- The English version, translated by Katharine Baker and Diniz Borges, will be formally released the first weekend of April [2006] in conjunction with the Luso-American Education Foundation conference, which is being held in Tulare, California. I have higher expectations for this edition than for the one in Japan, because in the case of the United States I know the publishing house [Portuguese Heritage Publications] and how it markets books using the Internet, with a list of potential customers who receive information periodically. Once a book is ready, there's already some notion of how many copies will be sold even before its debut. This publisher has its headquarters in San Jose, California, and its target market will be second- and third-generation Portuguese descendants who have difficulty reading Portuguese but are interested in their roots. I am pleased with this version in English, because the debut of the book in Portuguese was made in Tulare (the actual scene of [much of] the book).
DI -- The novel I No Longer Like Chocolates will soon have a Japanese edition. How did interest in translating a book by an Azorean writer into the Japanese language come about?
AO -- The Japanese translator Kiwamu Hamaoka became acquainted with the original Portuguese version of I No Longer Like Chocolates after reading some Azorean authors recommended by Onésimo Teotónio de Almeida. Hamaoka is a university instructor who's particularly interested in issues related to emigration. He has already been to the Azores twice, and has translated two of Dias de Melo's books into Japanese. He became intrigued by I No Longer Like Chocolates, which he has already translated into Japanese; his manuscript is now going to be compared alongside the English version, to make sure things check out correctly, more or less.
DI -- What are the prospects for I No Longer Like Chocolates arriving on the Japanese market?
AO -- I haven't the slightest idea. I imagine Hamaoka will propose publication of the book to a publishing company, because some interest in Portuguese culture exists in that country. I'm curious to see how what I wrote looks on the page in Japanese...
EXPERIENCE IN BERKELEY
DI -- It was following the publication of [the original Portuguese version of] I No Longer Like Chocolates that you spent a month [as Writer in Residence in the Portuguese Studies Program] at the University of California-Berkeley, where you brought your experience as an island writer to a multicultural and multiracial audience. More than three years later, what memories do you retain of this experience?
AO -- The students at Berkeley, besides making a start on I No Longer Like Chocolates, were also really interested in poetry, which is an area that very much engages American college students studying literature. Although there were no students of Portuguese descent in that group, there was a great deal of interest in the theme of my book and in emigration. I was impressed with the effort they made to learn Portuguese vocabulary – and because they were very intelligent, they didn't have much difficulty understanding the message.
DI -- How did it feel to be cast in the role of professor?
AO -- "Professor" in quotes... I went [to the University of California-Berkeley] just to converse with students. Besides three hours a day of classes, I had two more hours of office hours in which to receive students who wanted to speak with me – and there was never a day when someone didn't show up. Among the students was a young man who had chosen to study Portuguese literature because he'd lived from ages two to four at the US Air Force Base at Lajes, and the only recollections he had of Terceira were of a meat dish consisting of little black balls (alcatra) and a very hard white sweet (alfenim). I felt deeply honored by the invitation [from Cal] because it was a very interesting experience to make contact with the academic environment for the first time, since I've never been invited to the University of the Azores.
DI -- Did you encounter a university environment that was unique and very different from ours?
AO -- It's not a typical university, even by US standards. It's a university where everyone intends to earn a doctorate, yet that doesn't always turn out to be important. In Cal's studio arts program, the person who teaches ceramics is a potter without any college degree whatsoever.
DI -- This experience at the University of California-Berkeley comes in the wake of a sequence of ties with the Azorean communities of North America that have been cemented over many years. Are these ties more emotional than literary?
AO -- Yes, of course. There were many people who came together in this movement that had an important influence. There were the symposia on Azorean culture organized by Diniz Borges in Tulare, which started out with participation by only a half-dozen people, but last year had more than 200 in attendance from all over North America and Brazil.
DI -- Surfing the Internet, it's possible to find a wide range of references to your books of prose, poetry and theater. What's your perception of the impact of your writings on academia in the United States and Brazil?
AO -- I know that translations of my poems exist in at least Croatian, Spanish, English and Italian. These are things that take place in various locations and arise without anyone knowing exactly how. With respect to the university circuit, my texts are often used to teach students narrative technique. This has happened, for example, in the case of university professor Luís António de Assis Brasil [of the Pontifical Catholic University of Rio Grande do Sul, in Porto Alegre], who has shown great generosity because he is an excellent Brazilian writer who sells more books in Rio Grande do Sul than Jorge Amado.
DI -- Do you think that today you are a more universal writer because your work has traveled to peoples in distant places, something which wasn't happening little more than a decade ago?
AO -- Without a doubt. If there's anyone who has derived immense pleasure from this, I have, because I wrote a novel with this objective. But I have to admit that today there are more ways for people to become acquainted with what I write, even if they've never met me in person...
DI -- In the last few years you have reduced your pace of literary production. What can we expect from you next?
AO -- This decrease is due to the fact that, as we grow older, we bear greater responsibility for our output. This responsibility is more in the technical and formal realm than the ideological. In the case of poetry, I've always had a bit more of a dilatory relationship. I write for a while, set things aside, then take them up again later to see what is or is not worth publishing. But in the past, I revisited these papers more often.
DI -- Is your new novel almost done?
AO -- My first draft is done. But that's not saying much, because I wrote Já não gosto de chocolates seven times.
DI -- The Alpendre Theater [in Angra] recently debuted a play you authored – Bocas de Mulheres [The Mouths of Women]. Do you have any further plans for this work?
AO -- This text was created for a performance at the University of California-Berkeley [on 23 April 2005 at the 2nd International Conference of The Voice and Choice of Women in Portugal and in the Diaspora] and, if all goes well, it will return to California from the Alpendre [in April 2006].